Pizza, Costco, and an epic tale of a search for the perfect lunch box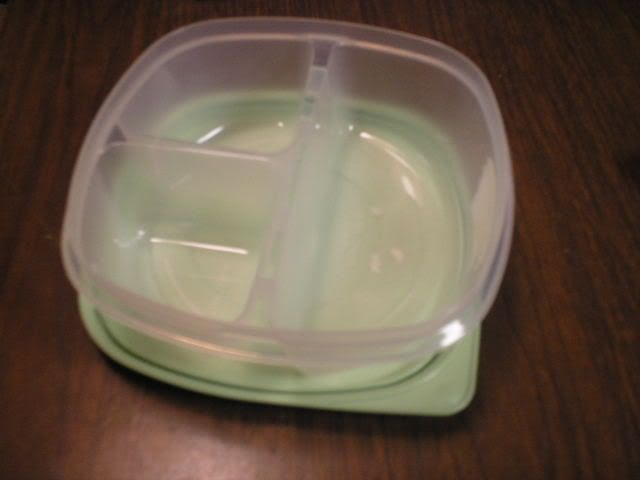 After much deliberation, I decided on purchasing this container for my lunches once school starts (ahh, less than a week from now). I looked at a ton of different options online. At first I wanted a laptop lunch box, but they are kind of pricey and I saw some bad reviews. For that kind of money I don't want containers that crack and leak. I then investigated bento boxes on eBay and Amazon but I wasn't too thrilled with any of them. I was looking for something relatively flat (2 1/2 inches or shorter) that would seal well and had at least 3 sections. I ended up getting this container at Kmart for a grand total of $6.99. I haven't gotten a chance to use it yet, but it looks good to me. It's from the Martha Stewart collection and is microwave and freezer safe. I'll check back with a review once school starts.
Tonight I made pizza for dinner. Only problem: I made the dough before I realized that we really had nothing to top it with. I ended up running to the garden to get an eggplant and slicing a potato on the mandolin. I even found a little bit of bell pepper in the back of the refrigerator. Add jarred tomato sauce and you get pizza! I really wanted the tempeh sausage crumbles from Vegan with a Vengeance, but I didn't really have the time to make them since I was going to celebrate a friend's birthday at TGI Friday's right afterwards (where incidentally, I just ordered a big salad with no cheese and no croutons).
Ironically, as soon as the pizza went in the oven my parents got home from Costco with lots of things I could have put on my pizza. They bought a ton of awesome things including craisins, salad greens, grapes, strawberries, vine tomatoes, and the biggest tub of hummus that I've ever seen. I'm not really sure how three people are going to finish that much hummus before it goes bad, but we can worry about that later.