Holiday gifts
Preparing gifts for the holidays doesn't have to be stressful (I'm probably just saying that because I haven't started this year's presents yet). Everyone loves something homemade that shows that you put some time into their gift.
Homemade mixes to make cookies, hot chocolate, etc. are great. Just mix up all the dry ingredients and make up a tag with instructions on how to finish making the item.
Bake cookies or cupcakes and wrap them up. Along with a note or card with a heartfelt message these can be great gifts.
If you're into making bath soaps/body care products, these are also fun.
Learning to make jewelry is easy. Pick up some beads at a craft store or make your own beads out of polymer clay or other material. String them up and attach a clasp or put them on earring backings and you have a simple gift that looks professional and is functional.
Everyone loves sock monkeys. Check out this tutorial to learn how to make sock monkeys. They only require very basic sewing skills and they come out really well every time. If you're a little more ambitious you can personalize or theme your monkeys. You can make any accessories that your mind can come up with. Google searches will bring up lots of other types of sock animals, just remember to use new/clean socks!
I went the sock monkey route last year:
Monkey Van Gogh and a Punk Monkey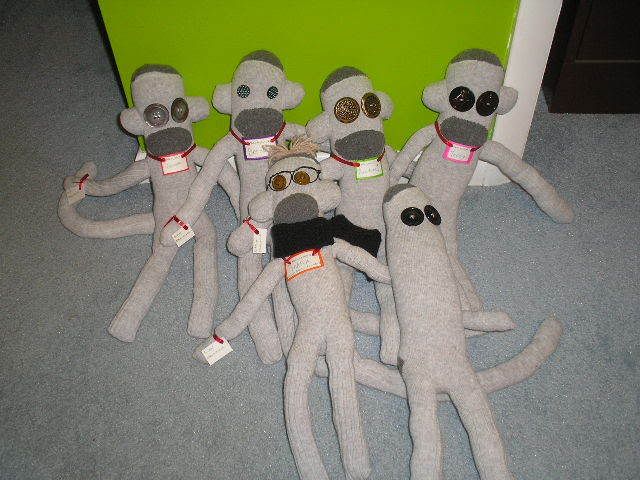 If you're artistic (I wish!) you can make drawings, painting etc. for friends and family.
When all else fails, treat someone to a dinner, movie, show, sporting event, or other event that you think they will enjoy. Sometimes time well spent can be a better gift than something material.
Above all, just remember to have fun. Holidays aren't meant for stress, they're meant as a time to reflect and appreciate everything you have in life.