matzo balls, cookies, seitan
I'm still alive!
Everything has been crazy lately but I'm finally off on my break from school. I'm keeping up [or trying to] four blogs, moderating over at
VeggieBoards
, and kicking my own butt with stuff for school, band, and [hopefully] college admissions for next year.
On the cooking front, I made five dozen cookies to give out for Christmas, the
Sparkled Ginger
cookies from
Vegan with a Vengeance
were the most popular ones. I also made the Gigantoid Oatmeal Peanut Butter Cookies from
VwaV
.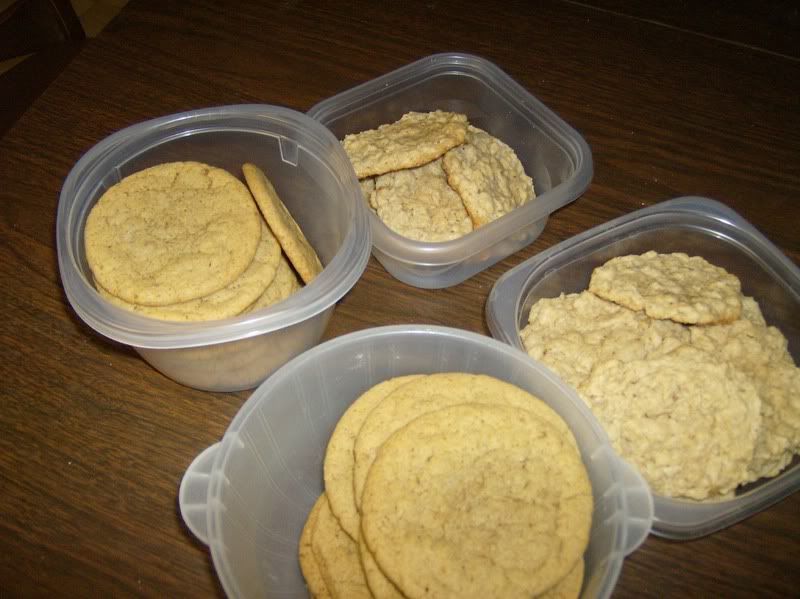 On Christmas Day I took advantage of the day off and made
matzo balls
(also from
VwaV
). They came out really well despite my less than optimistic expectations. The soup was just something my dad pulled together from the stuff leftover in the refrigerator.
Yesterday was my first ever seitan experience. I made a hybrid of a few recipes I found online and the results were mediocre. I baked the seitan so there wasn't a brainy texture issue, but it's kind of soft and squishy still. I froze most of it so I'll probably be messing around with it to see how to make it better in the next few weeks.
I received both the
Vegan Lunch Box
cookbook and
Vegan Cupcakes Take Over the World
for Channukah, but I've yet to make anything from either (although they both look great).
Hope everyone's holidays have been less hectic than mine and a happy new year to all.
Labels: cookies, matzo balls, seitan